It's Simple, Buy 3 Underwear on Croota.com and we'll throw a Jock in for FREE!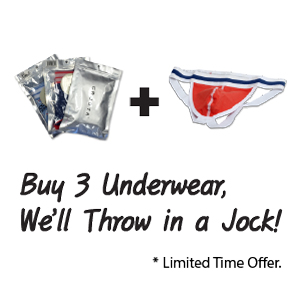 For a limited time Croota will add a FREE Jock to your order when you purchase any three underwear. Limit 3 Free Jocks, per customer.
Do not add a Jock to your shopping cart unless you plan on purchasing one.  No Coupon Code is needed, place your order as usual and we will randomly select one of our Jocks. We will select one the same size as the underwear you purchase. If you purchase different sizes, we will match one of the sizes, unless a note has been added with a size request.
If you are still having concerns please do not hesitate to contact us.
Shipping address in United States or Shipping address outside of United States