GG02
GARDEN GROVE 02 – GG02
When you're having a great day, you tend to see the beauty in the littlest of details. Spend enough time driving along any of Southern California's freeways and you'll see how shrubs are used to disguise the fences and walls to create a more pleasant highway. This print is inspired by the simple beauty we found on our daily drives around town. We also included our handwritten name disguised as leaves. Our Croota Four Colour Comfort band caps it off. So add a little foliage to your wardrobe, no water required. These boxer underwear are available in Navy Blue and Nutmeg Brown.
* Color: Navy Blue (95% Cotton/5% Spandex)
* The model in size (L): 184cm / 80kg / Waist : 84cm (33inch)
SIZE CHART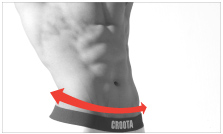 Men's Underwear Size Chart
• Below sizes are determined by actual measured waist size, not pouch or cup size
• CROOTA is Lo-Rise style so you may need to order half size bigger if you want to feel snug
Lo-Rise fit featuring Croota's "Satin Silver Comfort Waistband

Original design and cut created by Croota

Breathable cotton for all day wear and enjoyment

Front buttons add a detailed finish

Navy Blue(95% Cotton/5% Spandex)
| | |
| --- | --- |
| Size | S-M, L-XL, 4, 4.5, 5, 5.5, 6, 6.5, 7, 7.5, 8, 8.5, 9, 9.5, 10, 10.5, 11, 11.5, 12, 12.5, 13, 14, 15, 7us/37,5eur, 9/42.5/27, 9 US/42.5 EUR/27 СМ, S, M, L, XL |
Terms of delivery
FREE SHIPPING. Your orders will be dispatched within 1 business day via airmail and standard delivery times are:
1 – 3 business days to USA (Shipping from LA, California)
7 – 10 business days to Oceania / Europe / Asia (Shipping from South Korea)
10 – 20 business days to Canada / Eastern Europe / South America (Shipping from South Korea)
Note: For Australian customer's order, some items will be shipped separately either from Sydney or overseas and may have different delivery times.
Online Security
www.croota.com is registered with the Authorize.Net Verified Merchant Seal program.
128-bit Secure Sockets Layer (SSL) technology for secure Internet Protocol (IP) transactions.
Industry leading encryption hardware and software methods and security protocols to protect customer information.
Compliance with the Payment Card Industry Data Security Standard (PCI DSS).

---