SR01
CROOTA SPRINKLES 01 – SR01
Want to improve on your boring saggy undies but don't like all the flashy colours? Try Croota Sprinkles! Designed with the simple man in mind, these come in Grey and Black, but don't be fooled by the mono colours – two distinctive materials are used for 1 colour application on the waistband, giving the Croota logo a subtle reflection in light.
Whether you are conservative or just like a simple yet affective design, Croota Sprinkles is for you!
* The model in size (L): 184cm / 80kg / Waist : 84cm (33inch)
SIZE CHART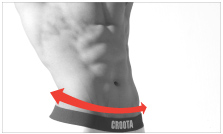 Men's Underwear Size Chart
• Below sizes are determined by actual measured waist size, not pouch or cup size
• CROOTA is Lo-Rise style so you may need to order half size bigger if you want to feel snug
Croota Lo-Rise 'Glove' fit

Original design and cut created by Croota

Sprinkled colour dots all over the mono colored body

Two distinctive materials applied to the waistband. Croota logo reflects in light

Breathable cotton for all day wear and enjoyment

Color: Gray (95% Cotton / 5% Polyurethane)
Terms of delivery
FREE SHIPPING. Your orders will be dispatched within 1 business day via airmail and standard delivery times are:
1 – 3 business days to USA (Shipping from LA, California)
7 – 10 business days to Oceania / Europe / Asia (Shipping from South Korea)
10 – 20 business days to Canada / Eastern Europe / South America (Shipping from South Korea)
Note: For Australian customer's order, some items will be shipped separately either from Sydney or overseas and may have different delivery times.
Online Security
www.croota.com is registered with the Authorize.Net Verified Merchant Seal program.
128-bit Secure Sockets Layer (SSL) technology for secure Internet Protocol (IP) transactions.
Industry leading encryption hardware and software methods and security protocols to protect customer information.
Compliance with the Payment Card Industry Data Security Standard (PCI DSS).

---