Midpoint JCK 01
MIDPOINT JOCKS 01 – MJ01
The ultimate jock underwear to boost your rear profile. Smart design offers great support with a classic two-strap back. This new unique waistband is the first of its kind on the market, and offers a mixed colour elastic waistband manufactured from a combination of cotton and silver satin combined with a thick coloured line across the band, this is truly superb manufacturing, a very rare find!
* Color: Deep Orange (95% Cotton / 5% Spandex)
* The model in size (L): 184cm / 80kg / Waist : 84cm (33inch)
SIZE CHART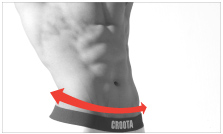 Men's Underwear Size Chart
• Below sizes are determined by actual measured waist size, not pouch or cup size
• CROOTA is Lo-Rise style so you may need to order half size bigger if you want to feel snug
Sexy Pouch with Legless cut!

Original design and cut created by Croota

Featuring Croota's "Silver Satin Comfort Waistband"
Terms of delivery
Your orders will be dispatched within 1 business day via airmail and standard delivery times are:
1 – 4 business days to USA (Free Shipping from L.A, California)
10 – 20 business days to Oceania / Canada / Europe / Asia ($7 per item / Shipping from the United States)
15 – 25 business days to Eastern Europe / South America ($7 per item / Shipping from the United States)
Note for International Customers: We will use Express Shipping on orders over 5 items. (6 to 15 Business Days)

Online Security
www.croota.com is registered with the Authorize.Net Verified Merchant Seal program.
128-bit Secure Sockets Layer (SSL) technology for secure Internet Protocol (IP) transactions.
Industry leading encryption hardware and software methods and security protocols to protect customer information.
Compliance with the Payment Card Industry Data Security Standard (PCI DSS).

Related products