TR02
TRAVELER 02 – TR02
Boxer shorts can be both exciting and super comfortable when Croota designs them. There are many Polyester fabrics on the market but we used the finest quality yet thinnest material. Separate yourself by wearing something fun and cheerful, whilst feeling relaxed and avoiding the typical baggy look. Low rise cut that comprises of longer and slimmer legs, leaving your body looking great, yet offering enough room to maintain comfort whilst bending down and moving around – extensively tested!
Presenting the finest quality, silky thin fabric, that will leave you feeling "naked". Croota Traveler will put you at ease, day and night. The front button is for detail only, so feel free to walk around without any wardrobe malfunctions.
* Color: Blue (100% Polyester)
* The model in size (L): 177cm / 72kg / Waist : 76cm (30inch)
Croota Fact: Not silk, but you wouldn't be able to tell with the light on or off.
SIZE CHART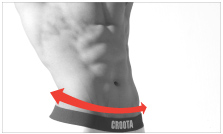 Men's Underwear Size Chart
• Below sizes are determined by actual measured waist size, not pouch or cup size
• CROOTA is Lo-Rise style so you may need to order half size bigger if you want to feel snug
Lo-Rise fit featuring Croota's "Satin Silver Comfort Waistband

Original design and cut created by Croota

Underwear and sleep wear

Distinctive pattern print on a silky white or blue material.

Blue (95% Cotton/5% Spandex)
| | |
| --- | --- |
| Size | S-M, L-XL, 4, 4.5, 5, 5.5, 6, 6.5, 7, 7.5, 8, 8.5, 9, 9.5, 10, 10.5, 11, 11.5, 12, 12.5, 13, 14, 15, 7us/37,5eur, 9/42.5/27, 9 US/42.5 EUR/27 СМ, S, M, L, XL |
Terms of delivery
FREE SHIPPING. Your orders will be dispatched within 1 business day via airmail and standard delivery times are:
1 – 3 business days to USA (Shipping from LA, California)
7 – 10 business days to Oceania / Europe / Asia (Shipping from South Korea)
10 – 20 business days to Canada / Eastern Europe / South America (Shipping from South Korea)
Note: For Australian customer's order, some items will be shipped separately either from Sydney or overseas and may have different delivery times.
Online Security
www.croota.com is registered with the Authorize.Net Verified Merchant Seal program.
128-bit Secure Sockets Layer (SSL) technology for secure Internet Protocol (IP) transactions.
Industry leading encryption hardware and software methods and security protocols to protect customer information.
Compliance with the Payment Card Industry Data Security Standard (PCI DSS).

---