P Line Series
CROOTA P.LINE SERIES
Croota P Line made of high quality Supima cotton, which is 100% grown in the USA. Supima Cotton has properties that make it superior to other cottons. It is stronger, softer, and holds color better.
Croota's P. Line boxer briefs are great for any and all uses, from the office to the gym. The pouch keeps everything together nicely for all day comfort. Croota from Australia is happy to provide men with a boxer brief that is luxurious, comfortable and form fitting.
https://www.croota.com/
SIZE CHART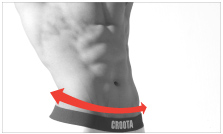 Men's Underwear Size Chart
• Below sizes are determined by actual measured waist size, not pouch or cup size
• CROOTA is Lo-Rise style so you may need to order half size bigger if you want to feel snug
Features:
Original design and cut created by Croota

93% Supima (Cotton) and 7% Lycra (Polyurethane)

Supima is 100% USA grown Cotton

COMFORT POUCH
16 P LINE STYLES TO CHOOSE FROM
AERIEL LEAVES – AL01P
Beautiful spirals and floating leaves from a breezy moonlit evening inspired this design.
ANGULAR PATTERN  – AP02P
Croota gives a twist to the classic Hounds Tooth pattern so many fashionistas have grown to love. While most are familiar with the black and white pattern, Croota chose blue hues as inspired by the Australian sea and sky.
CROOTA SOLID – CD01P
Solid Bold Orange color with detailed waistband and simplistic trim.
CROOTA THROUGH – CT02P
Square cut boxer brief made from Supima cotton which is 100% grown in the USA. Accented Orange waistband holds the boxer brief nicely on the hips.
DOT RANGE – DR01P
Blue dot pattern with detailed waistband and trim.
HIGH RAY – HR01P
This Beet Red boxer brief and Aqua Blue trim provide a nice contrast.
NEON C – NC01P
Multi colored dot pattern with detailed waistband and trim.
NIGHT SLIDER – SI01P
Neon coloured waistband for an accent that will not be missed in these soft grey boxer briefs.
NIGHT SLIDER – SI02P
Light Red with blue angled elastic waistband.
RASTA AMSTERDAM – RA01P
Black boxer brief with Rasta colored waisttband inspired by a trip to Amsterdam
RECTANGULAR EDGES – RE01P
Light Gray with multi colored elastic waistband.
STARRY NIGHT – SN01P
Sexy dark starry sky pattern. Simplistic waistband and trim keeps the focus on the pattern.
SYDNEY HARBOUR BRIDGE – HB01P
Cool denim look with accented red waistband. Form fitting around the thigh and back, while the pouch keeps everything in place.
TARTAN CRISS CROSS – TC01P
The classic tartan pattern with Croota's modern color scheme. Simplistic waistband and trim keeps the focus on the pattern.
TWO-FACE – TW01P
Blue boxer brief with blue and red striped elastic waistband.
UPTOWN – UP01P
Beautiful evening city scape reflected off the bay inspired this design. Simplistic waistband and trim keeps the focus on the pattern.
Video created in association with South Korean Television
| | |
| --- | --- |
| Size | S-M, L-XL, 4, 4.5, 5, 5.5, 6, 6.5, 7, 7.5, 8, 8.5, 9, 9.5, 10, 10.5, 11, 11.5, 12, 12.5, 13, 14, 15, 7us/37,5eur, 9/42.5/27, 9 US/42.5 EUR/27 СМ, S, M, L, XL |
Terms of delivery
FREE SHIPPING. Your orders will be dispatched within 1 business day via airmail and standard delivery times are:
1 – 3 business days to USA (Shipping from LA, California)
7 – 10 business days to Oceania / Europe / Asia (Shipping from South Korea)
10 – 20 business days to Canada / Eastern Europe / South America (Shipping from South Korea)
Note: For Australian customer's order, some items will be shipped separately either from Sydney or overseas and may have different delivery times.
Online Security
www.croota.com is registered with the Authorize.Net Verified Merchant Seal program.
128-bit Secure Sockets Layer (SSL) technology for secure Internet Protocol (IP) transactions.
Industry leading encryption hardware and software methods and security protocols to protect customer information.
Compliance with the Payment Card Industry Data Security Standard (PCI DSS).

---